Policy and Management

Fisheries
Thousands of people use Narragansett Bay every day - and many of them are trying to catch dinner. This "dinner" can be almost anything: lobsters, crabs, sea bass, blue fish, quahogs, oysters, mussels, scup, and conch are all part of the harvest.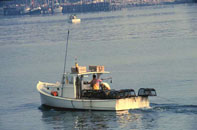 Lobster pot NOAA
(Click for larger image)
The fish and shellfish resources of the Bay are continuously desired by consumers. The fishermen who catch these creatures are a large and varied group. Some are casual weekend enthusiasts, while others run large commercial operations. In general, there are three distinct groups: recreational fishermen (who fish for fun); commercial fishermen (who fish for a living); and a growing number of aquaculturists (who grow fish, shellfish, and even marine plants to sell).
Salt marshes in the Gulf of Mexico and along the southeast coast of the United States are important nursery grounds for commercially important species such as prawn shrimp, sea trout, croaker, blue crab, and drum. For the states bordering the Gulf of Mexico, about 90% of the marine commercial catch and about 70% of the recreational fishery catch are estuarine-related (Day et al., 1988). Similarly, there is a strong correlation between the amounts of wetland area and fishery yield.
Fishing has a significant impact on Rhode Island's economics. In 1998 124,168,317 pounds of finfish and shellfish were landed in Rhode Island. In total, fishermen were paid $79,228,246 for this catch. But the economics of fishing goes beyond just the catch. Rhode Island recreational anglers spent $138,737,000 in 1998. Fishermen need to pay for gear, boats, bait, and fuel, providing jobs and economic stimulus far beyond the shores of the Bay.
Rhode Island fishermen sometimes argue among themselves about fishing. The division of fisheries resources between the different fishing groups is at the center of these controversies. Sports fishermen and commercial fishermen argue over resource allocation and environmental impact. Complicating the picture is the issue of aquaculture. Aquaculturists need space in the Bay too. There is some controversy about aquaculture in Rhode Island because state law declares that everything below mean high water is public property. Many residents have fought the development of aquaculture over concerns about the loss of public property. In addition, there are concerns over the concentration of animals, and the potentially resulting increased fecal matter.
Fishing has a significant environmental impact. The populations of many of the species fished today have decreased dramatically, in some cases due to heavy harvesting. Fish populations are decreasing for other reasons as well. Habitat destruction has had a great effect, especially the loss of salt marshes which act as nurseries for many fish species. Pollution, sewage runoff, power plants, and many other human activities have had negative effects as well.
---

(Image credits are listed in Image Index)