2. How do we investigate benthos?
The benthic community is not easy to investigate because you must first get to the ocean floor to obtain samples. One way we can observe the benthic community is by scuba diving. Divers can take photographs and sediment samples that can be tested and observed in laboratories.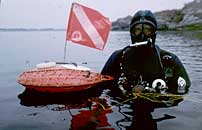 Scuba Diver
(Click for larger image)
Another way that we investigate the organisms is by using traps. Lobster and oyster traps can help us keep track of the populations of these organisms. However these traps do not give an accurate measures of the populations or species.


Trap
(Click for larger image)
One of the most useful way to investigate this community is by dredging. In the benthic community many of the organisms live underneath the surface of ocean floor. Therefore water sampling, although useful, does not give an accurate picture of the benthic population. With dredging, sediment is taken up with water and filtered so that all animals in the community can be observed and accounted for.


Benthic Sled
(Click for larger image)
Benthic communities can be observed by looking at the sediments at the seafloor. With new technology we are able to drill through the ocean floor and bring up sediment columns that can be observed. These columns can tell us a great deal about the intake and output of different elements. This helps us understand how this ecosystem works and stays in balance. These columns also tell us where in the sediment bed organisms are found and how they effect the community. Sediment-profile images, such as the ones below from the Narragansett Bay, help characterize the benthos and their environment.




Sediment-profile image from the lower Providence River near Conimicut Point showing degraded benthic habitat quality. In this image, a relatively thin surface layer of lighter-colored, oxidized sediment overlies black, anoxic sediment at depth. Anoxic sediments having a thin redox layer occur in typical in areas with high rates of organic loading and periodic low dissolved oxygen levels in near-bottom waters. The white shells near the sediment surface are numerous individuals of the opportunistic bivalve Mulinia lateralis (little surf clam). Courtesy SAIC, Newport, RI
(Click for larger image)
Sediment-profile image from the West Passage of lower Narragansett Bay showing relatively healthy benthic habitat quality. The image shows well-oxygenated, sandy mud sediments, with a large burrow structure at depth indicating the presence of larger benthos (e.g., lobster) Courtesy SAIC, Newport, RI.
(Click for larger image)