1. Where is the Intertidal Zone?
The Intertidal Zone is where the land meets the sea. It is the area between high tide and low tide. Intertidal communities can be found on sandy beaches, in bays and estuaries, and along rocky shorelines. The rocky shores are the most diverse and highly populated. In this area where rocks are covered and uncovered daily by the ocean, unique and diverse tide pool communities are formed.
The marine animals living in this zone are unique because of their ability to withstand exposure to air and the force of the pounding waves. The lowest levels of the Intertidal Zone are the most crowded with life and the higher, dryer levels are less populated. The organism's adaptations depend on where in the Intertidal Zone it will be found.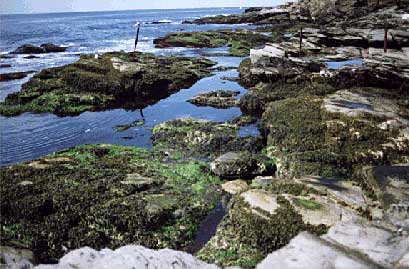 (Click for larger image)