4. What types of nekton live in Narragansett Bay?
Narragansett Bay, because of its location along the North Atlantic coast, contains both northern, cold-water marine life and warmer southern organisms. Rising temperatures cause the migration of many nekton into the estuary for feeding and reproduction. As the temperature begins to drop in the late fall some species move out of the Bay. For example, Summer flounder (Fluke) appear in late spring and depart before winter. Narragansett Bay is also home to many year-round residents. Winter flounder is Rhode Island's most abundant saltwater fish and is present throughout the year.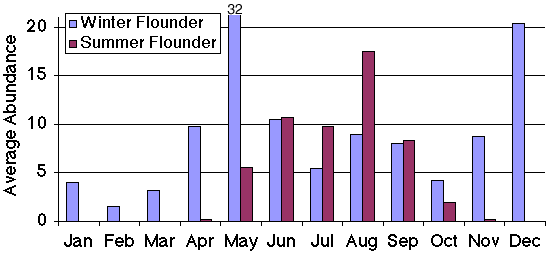 Winter Flounder and Summer Flounder (Fluke) caught in Narragansett Bay fish trawls during 1999. Winter flounder were present throughout the year, whereas summer flounder were seasonal inhabitants, from late April - early November.
Tautog, sea bass, and cunners share the feeding grounds of mussel beds and other small crustaceans. There are many other fish found in the pelagic community including Atlantic Menhaden, Bluefish, Atlantic Herring, Scup, Spiny Dogfish, Striped Bass, Butterfish, Silver Hake, and Squid. For more information on these individual species and the seasons that they are found in the Bay see the Biota Gallery.
These examples are used with permission from J. Kenney Abrames and Carol and Mark Archambault. All rights reserved. No portion whatsoever may be reproduced without express written permission from J. Kenney Abrames, Mark Archambault, and Carol Archambault. (Visit www.stripermoon.com)