1. What is plankton?
Plankton are organisms that live in the water. They are carried by waves, tides and currents. Their name comes from the Greek word "planktos" meaning drifter. Plankton come in many different shapes and sizes. They are grouped into two categories: plants (phytoplankton) and animals (zooplankton).
Phytoplankton are tiny, microscopic plants and bacteria. They don't have roots, stems or leaves like land plants. They look more like oblong beads or tiny spiky balls. Like land plants, phytoplankton need light in order to grow. Thus, they are usually found in the shallow surface waters. They can range in size from 0.001mm to 1cm.
Zooplankton range in size from tiny microscopic organisms such as protozoans and rotifers, to larger plankton called macroplankton such jellyfish, shrimp, and fish larvae. They are not dependent upon light for food like phytoplankton. Some zooplankton move under their own power. They migrate towards the surface water at night to feed on phytoplankton or small zooplankton. They sink to deeper waters during the day to avoid being eaten by larger animals. They can range in size from 0.02mm to 15 or 16cm.
Plankton are very sensitive to changes in the quality of the water. They help to tell us about the environmental conditions within our estuaries. Phytoplankton need light and nutrients to live. The phytoplankton population may grow rapidly if the water temperature rises and there are lots of nutrients. These dense "blooms" can change the color of the seawater so much that it can be seen from space. They may hurt the environment since they block the sunlight from reaching the bottom in shallow areas. During these blooms, the phytoplankton die and sink to the bottom where they decompose. This process uses up oxygen in the bottom waters where fish, lobsters, crabs and other animals live. The following picture was taken from space using a satellite. It shows a large phytoplankton bloom in the Baltic Sea, near Sweden and Poland, coloring its surface waters turquoise. The land is brownish-green and the clouds appear as white streaks.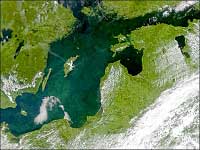 Phytoplankton Bloom in the Baltic Sea
(Click for larger image)