Policy and Management

Navigation & Shipping
Navigation and shipping have been an important part of human history. The early explorers financed their voyages by promising to find new trade routes. Early navigation instruments were primative compared to what is used today. However, they allowed for the Atlantic Ocean to be crossed and North America to be settled by Europeans.
Without lighthouses and modern navigation tools, it is amazing that sailing vessels were able to find their way through estuaries bringing settlers safely to shore. The entrance to Narragansett Bay is flanked by Point Judith, part of the town of Narragansett. The passage past Point Judith was difficult for early mariners. There is a ledge to the west that is difficult to navigate.


Ledge in Narragansett Bay
(Click for larger image)
The Point Judith Light dates back to before the American Revolution. The first true lighthouse was built at Point Judith in 1810 for $5,000. It was the third lighthouse in Rhode Island.(http://www.lighthouse.cc/pointjudith/history.html) After it was destroyed by a hurricane in September 1815, a new stone tower was built with a revolving light. The revolving light distinguishes Point Judith from Beavertail Light in Jamestown. The Beavertail Light was the first Rhode Island lighthouse and the third in America. It was built in 1749.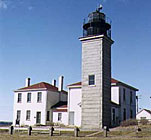 Beavertail Light
(Click for larger image)
Shipping traffic into Narragansett Bay has been heavy over the last 100 years. In 1907, 22,860 vessels were counted passing the Point Judith lighthouse in daylight hours. The traffic was four times greater than the traffic entering New York Harbor at the time.
Today marine traffic is greater than ever. For U.S. waters the Physical Oceanographic Real-Time System (PORTS), a program of the National Ocean Service, supports safe and cost-efficient navigation by providing ship masters and pilots with accurate real-time information required to avoid groundings and collisions. PORTS provide information on water levels, currents, and other oceanographic and meteorological data from bays and harbors. This information can be obtained by telephone voice response and the Internet. (http://www.co-ops.nos.noaa.gov/d_ports.html) This important information allows U.S. port authorities and maritime shippers to make sound decisions regarding loading of tonnage (based on available bottom clearance), maximizing loads, and limiting passage times, without compromising safety.
PORTS is also critical to environmental protection, since marine accidents can lead to hazardous material spills that can destroy a bay's ecosystem and the tourism, fishing, and other industries that depend on it. Narragansett Bay PORTS information can be found at this link: http://www.co-ops.nos.noaa.gov/nbports/nbports.html.
There are many sensitive political and environmental issues regarding shipping. From invasive species to national rights over coastal waters. Countries continue to work together to better manage the industry.
---

(Image credits are listed in Image Index)